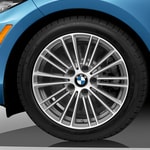 Driving is supposed to be an exciting activity that lets you feel the open road beneath your feet. The BMW 2 Series is reigniting drivers' love affair with driving by offering a selection of popular coupes and convertibles that give you high-end performance with sleek and athletic car bodies. Take back the road with the BMW 2 Series.
The 2 Series comes in four different variants that will give you options when you are in the market for a new car. You can choose an engine that offers performance with a range from 230 horsepower to 405 horsepower. The Competition Coupe is going to let you go from 0 - 60 in 4.2 seconds. Adaptive M suspension lets you hug the curves on Anchorage, AK's roads.
If you are interested in finding the luxurious BMW 2 Series model that is right for you, come to BMW of Anchorage for a test drive.